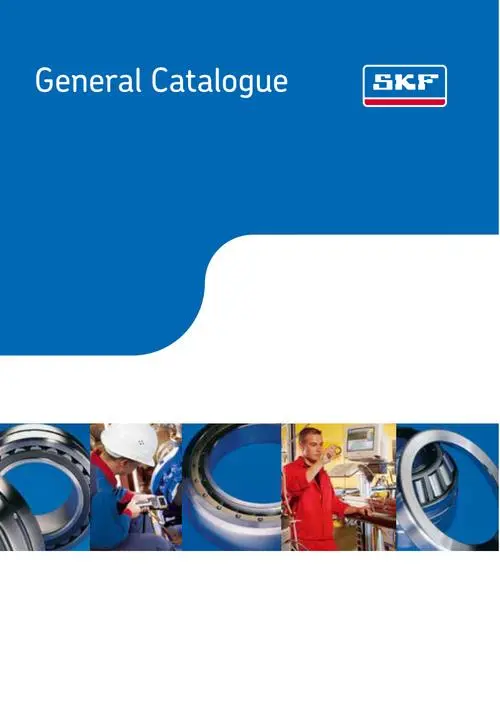 Basic Information
Established time: 1907; Founder: Sven Wingquist;
Manufacturing companies: 105; number of employees: 41,170 (2009); number of companies: about 150;
Net sales for the whole year of 2009 were 56.227 billion Swedish kronor; President and CEO CEO: Tom Johnstone
SKF Bearings entered China as early as 1912, and now there are many SKF authorized dealers, agents and distributors in China.
SKF's position in the world's manufacturing industry:
The world's largest bearing manufacturer; SKF bearing production accounts for 20% of the world's total output of similar products.
SKF has 11 processing plants in Sweden. In addition to the 11 production plants in Sweden, there are 61 production plants all over the world. They are distributed in different countries. SKF can produce the same high-quality bearings such as Argentina, Austria, Brazil, China, France, Germany, India, Indonesia, Italy, Japan, South Korea, Malaysia, Mexico, Netherlands, South Africa, Spain, Sweden, United Kingdom or United States etc. According to the allocation of resources, different types of SKF bearings are produced, so as to realize the optimization and professionalization of resource allocation. Most of them are still produced in SKF bearing factories in Sweden. More than 80% of the steel used in SKF bearings is provided by SKF steel plants to ensure the high quality of raw materials. All important equipment is designed and assembled by SKF to ensure that the production equipment reaches the highest level!
SKF product introduction
SKF provides standard products with more than 20,000 kinds of bearings. In addition to rolling bearings, the SKF Group also manufactures linear bearings, sliding bearings, bearing housings, ball and roller screws, textile machinery parts, retaining rings, machine tools and various precision machinery parts. Gain extensive experience in the above-mentioned fields, and thus possess the indispensable knowledge and expertise in the development, manufacture and application of various advanced engineering products. The small ones are like miniature bearings weighing only 0.003 grams, up to giant bearings weighing 34 tons each. In addition, SKF also provides a series of bearing maintenance tools, grease and bearing monitoring instruments (SKF bearing heaters, pullers, etc.), in order to enable bearing users to obtain higher benefits and achieve worry-free operation.
The Explorer series bearings, a characteristic product of SKF bearings, have better performance and longer life than any bearing brand currently on the market. They have outstanding performance in design and use. They are among the top scientists and engineers of the SKF Engineering and Research Center in the Netherlands. After years of careful study by the team, SKF Explorer bearings can be identified by the "EXPLORER" engraved on the side of the outer ring of the bearing and the "EXPLORER" logo on the box, but the product number remains unchanged. Yarui strongly recommends EXPLORER Explorer series bearings to you.
The origin of SKF
In 1905, the young Swedish textile technician Sven Wingquist was troubled by frequent bearing damage on textile machinery and invented the self-aligning double row ball bearing, bringing the bearing technology of the time into a new era. SKF immediately followed in 1907. Founded in the year.
About SKF
SKF Group is the world's leading supplier of rolling bearings and seals. Its business scope includes bearing manufacturing and seal production as well as the promotion of bearing-related tools, providing customers with various solutions and services. SKF's business is divided into five major departments: Industry Department, Automobile Department, Electrical Appliance Department, Service Department, Aerospace and Steel Department. Each business unit provides services to the global market, focusing on customers and industries related to its own business. SKF has attached great importance to product quality, technology research and market development from the very beginning. In the Netherlands, we have our SKF specialized research institute. The group invests huge efforts in technical research and product development. SKF invests 17% of its sales every year in research and development. Continuously obtain various inventions and creations, on average 2-3 new inventions and patents are generated every day, set new standards in the bearing technology field, and launch new products to the bearing market. The main strengths of the SKF Group include technical support, equipment maintenance services, equipment condition monitoring and technical training. SKF is a global multinational company with more than 100 manufacturing plants located all over the world. SKF has more than 40,000 employees and 8,000 offices around the world, has its own distribution organizations in more than 130 countries, and has the support of more than 15,000 distributors and agents worldwide. High-quality products, complete global logistics system, and good after-sales service system have made SKF, a multinational company, a brand in the field of bearings in the world.
SKF excellent engineers often team up to each factory to audit the production process. The scope of Ford Motor's quality assessment system for its suppliers not only includes products, work performance, design and manufacturing; it also provides technical support to suppliers, timely delivery, market leadership, price positioning, adaptability and flexibility, and Innovative performance evaluation in several aspects, and awarded [Q1 Quality First Prize] to the best performers. All 20 SKF factories as suppliers of Ford Motors won this award.
SKF has also won similar awards from General Motors, Volkswagen, Mexican Nissan, Christine, Rolls-Royce, Audi, British Railways, Black&Decker, and Atlas Copco.